Wildlife Habitat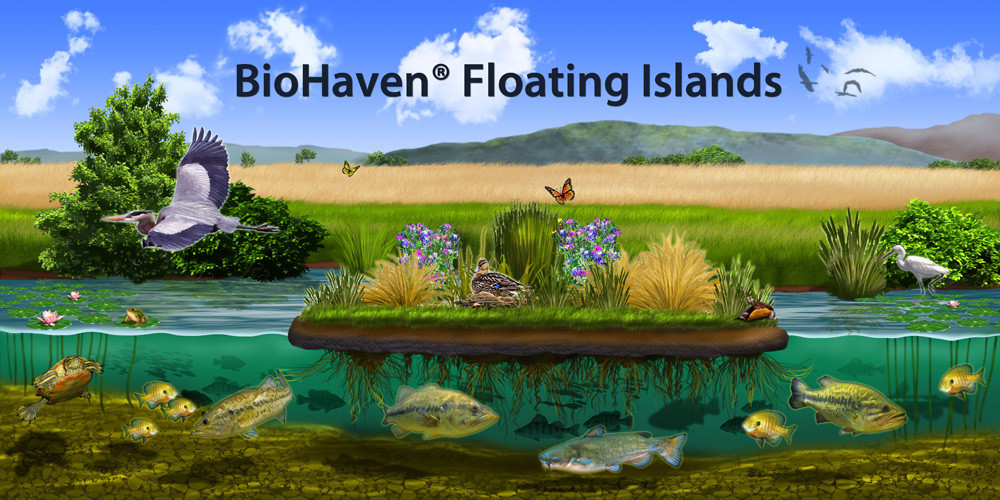 In addition to naturally cleaning our waterways, BioHaven® floating islands are an excellent solution to create habitat for birds, turtles, frogs, insects (particularly pollinators), fish, and other wildlife to thrive. In recent years, more and more wildlife have been losing their habitats due to humans. These islands are helping to bring more wildlife back to local ponds, lakes, and streams.
Plants provide food, shade, and refuge for wildlife in the waterbody, allowing offspring to reach maturity. Islands can help grow your fish populations with a more natural solution.
Nutrients cycle through the food chain beginning with extensive microbial activity on the roots and the dense, porous matrix. Fish and other small aquatic animals use those nutrients as their food source and thus the food chain continues to grow.
Floating treatment wetlands can be customized to fit the unique feeding, nesting, and protection needs of a specific species. Islands have successfully created habitats in the wild and in zoos for terns, trumpeter swans, turtles, and loons. The islands can be customized by size, shape, plants, and more!
Check out our 7 Reasons to Use Floating Islands for Habitat blog to learn more about how islands can provide a safe home above and below the waterline for a wide variety of animals with food, shelter, and protection.