Creating a wetland habitat for loons in Minnesota
Phyllis Sherman reports that her two BioHaven home for loons in Northern Minnesota are "a great success!"
A Star Tribune article recently announced that the Minnesota and Wisconsin Departments of Natural Resources might receive $39 million over a 15-year period that may help the Minnesota state bird-the loon. This money would help lessen the effects of the petroleum contamination on the loon population from the serious BP oil spill five years ago.  This petroleum has negatively affected our Midwest loons because they migrate to the Gulf of Mexico during the winter months.
Many of the loon conservation efforts being proposed by the DNR are a good application of the BioHaven® Floating Islands made in Saint Paul by Midwest Floating Island. In general, these floating wetlands function as prime real-estate for nesting birds because they automatically adjust to changing water levels and are anchored to avoid shoreline predators. They can also be tailored to be perfect nesting habitats for specific wetland bird species, including the loon.
Customizable Artificial Nesting Platforms
These special Loon Nesting Islands can be customized with small ramps for easy access by chicks and short plants to provide good sightlines for nest-tending parents. There are holes to insert thin, overhanging branches to maintain overhead protection from predatory birds. These islands have already been used for nesting loons in Minnesota, Lake Michigan, and British Colombia and have even been used by the Montana Fish and Wildlife Service and the Minnesota Loon Society.
The man-made loon habitat does not need to removed in the winter. These BioHaven loon nesting habitats have been successfully used for loons to return year after year to raise chicks on their own undisturbed island.
Benefits of Floating Wetlands for Habitat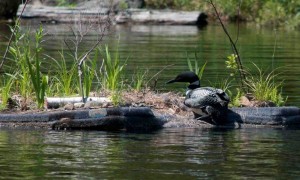 The benefits that Midwest wildlife would see from increased use of these islands is not limited to this one species; BioHaven® Floating Islands can be designed to suit the nesting, feeding and protection needs of an enormous variety of animals. Notable successes include using floating islands for turtles, terns, and trumpeter swans.
Loon conservation is just one of many potential benefits that can be realized through the use of floating islands.
For more information, contact
Midwest Floating Island
MidwestFloatingIsland.com| info@MidwestFloatingIsland.com |651-379-2480